Pikildrato
Mallonga priskribo:
FOB China port:: $750 per ton
Steel material:: Hot dipped /Electro galvanized wire, Pvc wire
Type available:: Double twist / Single barbed wire
Wire Diameter:: bwg16 bwg14 bwg12 bwg10
Packing:: 50m 100m 250m 300m 500m
produkto Detalo
Metal wire expert
produkto Etikedoj
Barbed wire made of Low carton galvanized wire or High Carbon galvanzied wire 
Zincc coated :15g-280g/m2
Babed type : single barbed wire, Double twist barbed wire 
Packing: 100m ,200m 250m,500m per coil , Or with plascit spool ,Wooden spool   
Barbed wire also known as barb wire ,occasionally corrupted as bobbed wire or bob wire,is a type of steel fencing wire constructed with sharp edges or points arranged at intervals along the strands.It is used to construct inexpensive fences and is used atop walls surrounding secured property .It is also a major feature of the fortifications in trench warfare.
A person or animal trying to pass through or over barbed wire will surffer discomfort and possibly injury. Barbed wire fencing requires only fence posts.wire and fixing fevices such staples. It's simple to construct and quick to erect,even by an unskilled person.
specifo:

Barb distanco

Barb longo

BWG10XBWG12

 




 




7.5-15cm

 




 




1.5-3.0cm

BWG12XBWG12

BWG12XBWG14

BWG14XBWG14

BWG14XBWG16

BWG16XBWG16

BWG16XBWG18
Nudigis drato ĉiam uzi kun koncertino reto kune, Ili estos lokita sur la supro de muroj / bariloj ĉirkaŭaj regionoj vaste uzita en multaj lokoj kiel privata domo, oficejo, fabriko, rapidvojo flughaveno ktp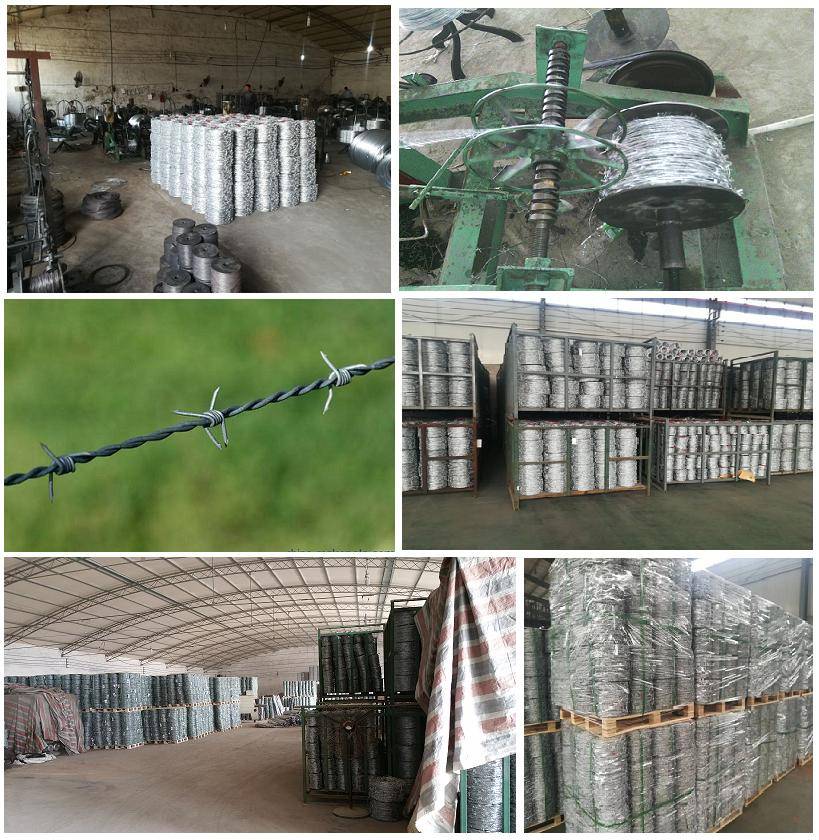 ---
Antaŭa:
Gabion basket
---
Hebei Five Stars is an expert in building materials and hardware. After more than 20 years of development, it has developed from a simple trading company to a large enterprise with many cooperative factories, such as Five Stars Galvanized Wire Cooperative Factory, Five Star Iron Nail Cooperative Factory, Five Star Wire Screen Cooperative Factory and so on. It has the world's advanced production equipment and strict product quality management system. Because our factory is located near the important steel production base in North China, we have the advantage of price. Our galvanized wire, nails, wire mesh and other building materials products have been sold to more than 40 countries such as the United States, Mexico, Panama, Brazil, Argentina, New Zealand, Australia, South Africa, the United Arab Emirates, Ethiopia, Spain, Portugal and so on.
As long as you make a simple inquiry, we will reply to you promptly.